Articles/Guides
HP Made Laptops - BUY AT YOUR OWN RISK!
To our customers,

Hp is the World's largest computer maker, as evident by the Chart above. Because of the size of HP, when we offered HP made laptops, we were selling with confidence.

HP is a US brand and it is typically more expensive than Taiwan based brands like Asus, Acer and MSI. When we sold HP made laptops, in our minds, we are selling a premium item.

On November 11, 2010 we received a message from a customer.
"Anyway, sir coolotyz, inquire lang, the LOF doesn't manifest itself agad or even after a year.
Kasi, I got 2 CQ40s frm you before, the earlier batches, i guess that was more than a year ago.
Its just that now, both have those very visible LOF. I think they are both out of warranty as more than
a year had lapsed. Any suggestion on where can i have the LCD replaced at affordable price? thanks sir."

Still we withheld releasing the article because we continued to hope HP Philippines would act on the various requests we had made. But on November 22, 2010 someone posted another feedback in a public forum:

"nakow nakow si COOLTOYZ pala nagsusuggest noon ng compaq CQ40-416AU kaya ako napabili nito. nasira na akin. sira lcd, pinagtatawanan tuloy ako ng officemates ko. ako ang purchaser ng lcd na ipanararating ng company namin."

Our hand has been forced to publicly post this article.

Were we wrong to believe in Hp?
We read at National Bookstore that the five most important words are "Sorry we made a Mistake". Apparently in the case of endorsing HP made laptops we made a mistake and we apologize to those who had a bad experience with the items purchased based on our endorsement.

Sincerely Yours,

CoolTOYZ

note: Read this on one of the Compaq Forum pages by accident:

Please JOIN Compaq LCD Problem Fan fage at Facebook Here:
http://www.facebook.com/pages/We-Demand-Recall-for-Defective-Compaq-Presario-CQ40-Series/111125595614249?sk=wall
Since 2002, we at CoolTOYZ have endorsed to consumers a lot of HP made laptop models because of the right combination of cutting edge design and imprints, capable performance, and of course,
the HP Premium Brand
. In addition we liked that HP Philippines had an
excellent after sales structure
, including a service center in Makati that is very consumer friendly -
complete with a lounge, free coffee, and even Mr. Bean entertainment
. On certain occasions, HP will even offer to deliver a repaired unit to your doorstep free of charge. Another noteworthy after sales service feature of HP was that it was the only Brand that honored
International
Warranty Claim without much restriction, a service which is critical to mobile computer users. Most likely because of the same reasons, HP became the
Number 1 selling laptop brand in the Philippines
.
CoolTOYZ is a hobby shop operated by laptop enthusiasts with the intention of sharing our many years of experience as mobile computer users to the general consumer. While HP made laptops is a major revenue stream for our store, CoolTOYZ was established primarily as a Hobby shop for our fellow laptop enthusiasts. In keeping with our core objective, it is imperative we share with the consumers our first hand experience with HP made laptops despite the expected loss of revenue.. That stated,
the objective of this article is to share our experience and why we now have lost confidence with HP made laptops
.
For clarity of the discussion, we will write down our experience in itemized format.
1.
nVidia GPU problem affecting 21 HP made laptop systems.
1.1. The nVidia Graphic card problem is well documented in many articles like
<click here>
and is even covered by the "The NVIDIA GPU Litigation"
<click here>
.
1.2. The nVidia GPU issue results to laptops with the nVidia Graphic Card installed to have "symptoms" that include no video on the computer LCD screen, no power and no active LEDs; in other words the user will not be able to use the laptop.
1.3. Even HP acknowledged the problem as evident by this article
<click here>
, one among many other articles that can be found using google search for "HP GPU recall"
<click here>
.
1.4. As stated, HP acknowledged the nVidia GPU issue and even extended the warranty of laptops affected as evident by an advisory in the HP website
<click here>
. If you find the article a dead link it is because HP took down the site despite the fact that a lot of consumers hailed the HP Limited Warranty Service
Enhancement
, for being pro-active. But someone smart enough saved a copy and posted it online
<click here>
. If not for the smart one who saved a copy it would have been gone forever and consumers would not have reference when claiming the extended Service warranty Enhancement.
1.5. It is noteworthy to state that even when the link in the HP site was on-line, Hp Philippines did not honor the Limited Service Warranty Enhancement, stating that the program is only honored in the US. Hp, did you not offer Hp laptops in the Philippines with the nVidia GPU? Hp, is the Philippines so lucky that we are only the country not affected by the nVidia GPU issue?
1.6. We let it "Pass" that HP made laptops with nVidia Graphic Processing Unit unexpectedly becoming bricks, because HP was only partly to blame for the mess. It was another company, nVidia, which supplied the Graphic processing Units(GPU). Likewise other brands were also affected like Apple
<click here>
and Dell
<click here>
2.
HP cancels International Warranty Coverage:
2.1. Sometime in June 2010 we were informed that HP Philippines will no longer honor claims for International Warranty.
2.2. The reason stated is because HP laptops are now sold only with a Regional Warranty as stated in that white documentation paper with which the product was sold.
2.3. HP International Warranty Coverage was one for the strongest Brand feature being the World's Largest Computer Brand. A laptop is meant to be brought by the user wherever he travels; and the size of HP made us confident that anywhere in the world that an HP made laptop will break, HP will be there to provide service. It is not only CoolTOYZ that shares this opinion based on this nice read about HP International Warranty coverage,
<click here>
2.4. Insiders in the HP Philippines service center told us the International Warranty coverage was cancelled because there were too many claims and it was costing HP too much money. But because we can not validate this consider the news as gossip.
2.5. In retrospect we should have realized that the International Warranty Coverage was being cancelled because there were too many claims. Instead, once again we let the issue on International Warranty "PASS" because it is a company decision and as a lowly consumer we can not demand HP to provide what consumers desire.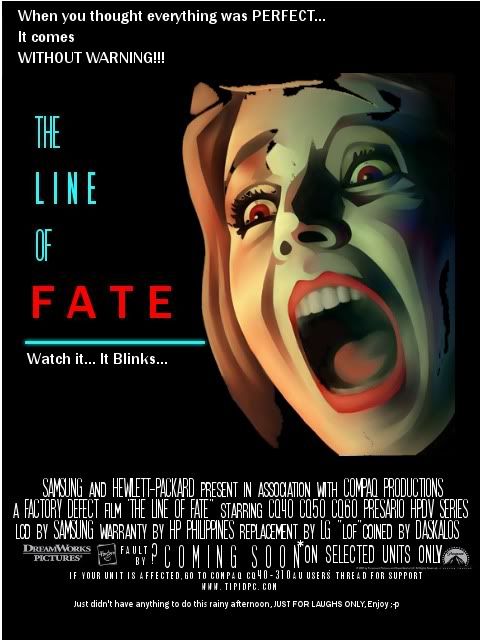 3.
HP Compaq CQ40 LCD Problem:
3.1. What is the CQ40 LCD problem? In one computer forum the issue has been termed the "
Line of Fate
" or L.O.F., because you do not know when it will appear but rest assured like Death it will come.
Cute but True!
3.2. The LCD issue is a flickering line that appears on the display and based on our experience the flickering line will usually start at the bottom of the display which is covered by the task bar thus not readily visible. In time, more lines will appear and become a big nuisance. The issue is best explained by Mr. Tony Cruz in his blog
<click here>
.
3.3. We at CoolTOYZ gave the CQ40-series a "Best Buy" recommendation and actually sold a lot of the laptop series CQ40-310AU
<click here>
and CQ40-416AU
<click here>
which both became best selling models.
3.4. When the said models were released, CoolTOYZ endorsed the models on the premise they were the bang-for-the-buck laptop model because they were gaming capable laptop yet sold at a very affordable price. The CQ40 was not the cheapest model available, but it carried the prestige of being an HP made laptop, which invited a lot of consumers to purchase the model.
3.5. When consumers began to report the Line of Fate / LCD problem on the CQ40-310AU model, we immediately called the attention of HP regarding the feedback and as evidence we can present a series of email communications beginning
July 29, 2009
.
3.6. The issue was further aggravated by the fact that HP Philippines ran out of LCD components to use as replacement and warranty claims reached as long as 1-2months! Again Mr. Tony Cruz explains the incident the best
<click here>
. There are actually 233 comments in the blog of Tony Cruz.
3.7. In Fairness to HP, when a unit was diagnosed with the LCD problem, HP would replace the whole top assembly including the webcam, the LCD back cover and the hinges. When the laptop is returned to you it will look brand new again.
3.8. However, the problem is the LCD issue reappears after a few months from the time LCD panel was replaced.
Hulala!
The same experienced was reported in a forum page of Singapore based Hardwarezone.com
<click here>
"
even though the LCD has been replaced for many customers, the same problem will happen over again and again. ur gonna have to pay if ur warranty has expired. and mind you the lcd is expensive, might as well get a new laptop...
"
3.9. Further aggravating the situation was that the problem started to be experienced by owners of the succeeding model, the CQ40-410AU. Based on a poll conducted in an online laptop forum, the number CQ40-416AU owners affected by of the Line-of-Fate LCD Problem was around
32.3%
.
3.10. On September 20, 2010 we again raised the issue to representatives of HP Philippines. We stated in the letter that "
Extending the warranty even for only the LCD of affected units will develop goodwill with customers and will exhibit the commitment of HP to quality products. This type of goodwill developed is better than any advertising or marketing activity a company like HP will implement.
"
3.11. On September 21, 2010, one HP representative replied that HP will be extending the warranty for an additional period of 6-months. Great! The exact text of the email reads as – "
Currently all end users affected by the LCD issue will automatically get an extended warranty of 6 months. The warranty does not only cover the LCD but to any factory defects that the customer may encounter in the unit
"
3.12. But a week later another HP representative said there was a miscommunication and the warranty enhancement program was intended to cover
ONLY
units that were previously repaired. Duh?
What about units that were not previously repaired?
.
3.13. We at CoolTOYZ argued that the usage patterns of users are different, and thus the issue on the Line of Fate LCD problem would appear at different times. What if you are a light user and the LCD issue will appear on the 13th month, meaning outside the warranty period. How will you able to claim warranty for your seldom used laptop?
3.14. On September 22, 2009, CoolTOYZ had a meeting with two(2) representative of HP Philippines to communicate our request that HP extend the warranty on the LCD of the CQ40-series for a period of 24-months as part of product Quality Assurance.
3.15. To reinforce the request we shared to HP Philippines information that the LCD problem is not exclusive to the Philippines and is actually experienced in the whole region as evidenced by 27pages in the forum of the Hp website:
<click here>
With this reality, we recommended that the matter be raised with the HP regional office.
3.16. Today is November 11, 2010 and despite countless follow up via emails and a meeting with the concerned HP representatives, HP has not provided any formal reply, leading to this disclosure by CoolTOYZ.
We accept that a laptop is sold with a limited warranty of 12months. The warranty is intended for product
Defects
.
But
Product QUALITY
like that affecting the LCD on the CQ40-series, is completely a different issue.
As laptop enthusiasts we share the expectations of our fellow consumers that because we are buying an HP made laptop we are getting quality.
Are we wrong to "expect" QUALITY from Hp made laptops?
Hp may argue that the same LCD issue happened to Acer, wherein the model developed dots on the LCD after constant use. But Dear Hp, we are not buying from a Taiwan based brand. We are buying from a reputable US company that is the World's Largest computer maker.
Are we wrong to "expect" more from HP?
One HP laptop owner shared – "
Sa pagpapatuloy ng masalimuot na kuwento ng CQ40, masasabi pa ba nating "bang for the buck" ang laptop na ito? Siguro...para sa HP (ilang libong CQ40 ba ang nabenta nila?), pero sa mga end-users.... luha't pighati lang ang hatid.
". Mr. Owner, allow us to share that we fell the same way as a seller of HP made laptops.
Based on our experience narrated above, HP has failed to honor the expectation for Product Quality
. As a seller, how can we endorse a product if we ourselves do
NOT have CONFIDENCE
that the next model to be released will not suffer the same poor Product Quality.
We apologize to our customers who were swayed by our endorsement of HP made laptops. At this time we would like to put on record that the CoolTOYZ rating for HP made Laptops is ->
Buy at your own risk
until HP can demonstrate that as a company they will honor product quality.